mika

-

27-1-2006 at 05:32 PM



Ok here goes, a Step by Step guide.

AVATARS
1/ Go to your MSN Highland Pony album. Choose the photo you would like to have as your Avatar, right click on the thumbnail (i.e on the Small Piccie, do not enlarge !!)




2/ Go to Properties, and then highlight the URL and Copy the URL.




3/ Go to your Profile and Scroll down till you see this -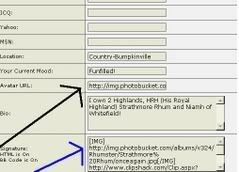 (It has come out small but you get the idea)

Anyway, Paste your URL in the box where the BLACK arrow is pointing, and Viola! You should have an Avatar!




SIGNATURES
1/Go to your MSN Highland Pony album. Choose the photo you would like to have as your Avatar, right click on the thumbnail (i.e on the Small Piccie, do not enlarge !!)




2/ Go to Properties, and then highlight the URL and Copy the URL.




3/ Go to your Profile and Scroll down till you see this -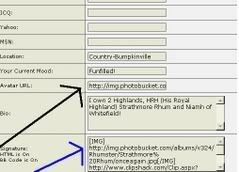 then, put [img] URL [/img] But Without spaces in between the Url and Img tags.




So - [img] http://sc.groups.msn.com/tn/F0/61/HighlandPonyAlbum/39/9b4.jpg [/img]

With the tags joined up with the URL becomes -





Does this make sense at all, its been a very long week at school and I'm tired


Scott (U2U me if you have any difficulties)
---
Oronsay

-

27-1-2006 at 06:27 PM



Just to add, do not press enter between you url's for signatures as they will go down the way, instead do nothing! Your signature space on your profil page should have a part that looks like [/img][img] You can put spaces in between and writing below.

Well done Scott! Good guide! :clappy:
smee xx
---
Jackie

-

14-2-2006 at 06:42 PM



Where do I find my profile?
Am a bit dim at this!
am a child of the 20th not the 21st century!
---
soupdragon

-

14-2-2006 at 06:56 PM



Having a grey moment Jackie?Iget lots of those these days1There are three little boxes at the end of post one says profile!Click on that.Voila!
---
Jackie

-

14-2-2006 at 07:00 PM



Thanks Tina - much better
---
Claire

-

6-3-2006 at 09:58 PM



Fab Mika
Well done!
---
chris

-

23-4-2006 at 09:38 PM



Should have siad this a while ago, but was kinda too chuffed at the time!!

Thankyou to Scott and Claire for all the posts on helping make avatars and signatures


chris
---
JaneIslay

-

26-10-2006 at 06:05 PM



Oh dear..........I'm stuck at the first sentence.........

"Go to your MSN Highland Pony album" what the heck is that ?
---
Rebecca

-

26-10-2006 at 06:13 PM



JaneIslay, If you go to the Technical Forum on the Message Boards "front page" you will find information about the albums, here is the link. You can then link from these images to the messageboard.
http://groups.msn.com/HighlandPonyAlbum/

Jill looks after the albuns so U2U her if you have queries.
---
Fleas

-

26-10-2006 at 06:14 PM



That is a brilliant breakdown there Scott!
Jane you have to create an album - it's to do with msn, and I can only ever find it by using a link that someone has posted on here - usually a gorgeous pic of someones pony will be from their album and it should be all purple round the edges/top... go check out some piccies and hopefully you will see what I mean or someone can post a link for you

I had a bit of trouble registering with msn to get an album as my delightful lodger had registered himself with my address
got round it by changing the passwords and locking him (computer wise...) out so he couldn't access his college work...
---
Fleas

-

26-10-2006 at 06:15 PM



there you go, thanks Rebecca!
---
JaneIslay

-

29-10-2006 at 09:44 PM



I managed to put something into the signature bit - but can't seem to manage the Avatar thing - even tho it was the same url ! I got the MSM album set up ok.

Could someone possibly explain what the U2U thing is please
---
mulletsmum

-

29-10-2006 at 09:47 PM



It is like e-mail within the board. Go tot the top of the board page - right hand side - there is a line of things
[Logout - U2U - Control Panel / Options]
CLick on U2u - another window opens and go from there - you might find one from me if I am quick!
---
JaneIslay

-

29-10-2006 at 10:11 PM



Mulletsmum - I found your email in the U2U thingy but I'm absolutely darned if I can find a way to reply !

guess I'm just too old to do all this stuff
---
Claire

-

30-10-2006 at 08:53 AM



Jane your avatar was exactly right, except for %20 which somehow found its way onto the end of the code. I removed that and it worked
---
JaneIslay

-

30-10-2006 at 02:20 PM



Oh thank you Claire - I wondered how it suddenly appeared overnight ! Now I'll need to sort out the signature bits.


---
scbu

-

7-4-2008 at 06:04 AM



I have tried and tried but cannot seem to reinstate my avatar. And now I can`t find the original picture either!



Pat
---
Rebecca

-

7-4-2008 at 07:00 AM



SOmebody has though - it is back and I never knew it had gone...
---
scbu

-

7-4-2008 at 08:47 AM



Whose is back - yours or mine? I can see yours, just can`t see mine.

Edited to add, Stompie`s pig`s gone as well!




Sula and Peter Hill back!






Pat



[Edited on 7-4-2008 by scbu]
---
islander

-

13-6-2008 at 08:27 PM



still cant get my sleepy camrie back on

[Edited on 13-6-2008 by islander]
---